Hungry - Curious - Intrigued?
Did you see our Menu?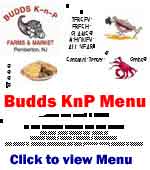 How cool is that?

It is the largest in the area. It started with only 10 items and now we have over 300 to choose from.
Our own hand dipped ice cream in a large variety of flavors. Our ice cream is made with real cream and is "not a frozen dessert product". You will taste the difference. Custom made celebration cakes and ice cream cakes for your birthdays, anniversaries and any occasion. We bake our own ham and turkey breast for the best lunchmeat you will ever have. Homemade Potato salad with egg using our own fresh brown eggs. Cole Slaw, Macaroni Salad and Pasta Salad made fresh. All salads are available in large quantities for your special event.
Take Out - Catering - Parties
Homemade baked here - Pies - Cakes - Desserts - Donuts - Cannoli's - Cookies - Brownies - Muffins
Milk Shakes - Splits - Cones - Floats - Sundaes.
Fresh sliced meats and cheeses.
Homemade macaroni and cheese - made with 6 different cheeses
Meat or Vegetable Lasagna - Eggplant Parm - Stuffed Peppers - Stuffed Shells - Manicotti - Chicken Parm
Authentic Mexican Food including Burritos, Tamales, Empanadas, Sopitos, Corn Soup, Rice & Refried Beans.
Hot & Sweet Italian Sausage with Peppers & Onions. Homemade frozen dinners.
*We did not post prices on this page. Our prices are kept as low as possible and may fluctuate due to market prices of commodities.